1)
BRADLEY FAST GIRLS TRAILER BRADLEY "BOYBAND LOOK" LOL BRADLEEEEEEY ♥ ♥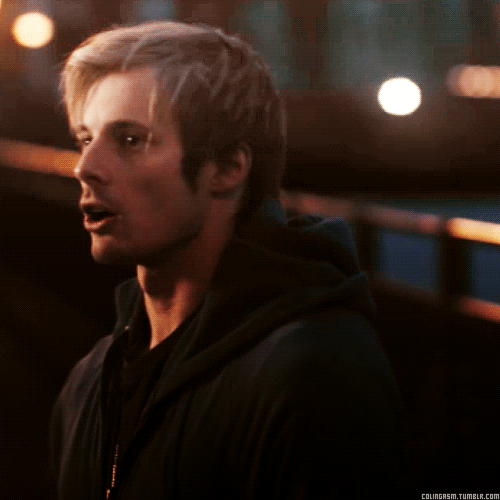 (
source
)
2)

camelot_drabble
is a thing I am doing! Maybe! I don't know, I'm just bummed I haven't been able to write anything in a year and a half, and there's absolutely no pressure involved with this, I think it could be a good thing for me? COME PLAY WITH ME? Then when you've finished playing with me, go join the community. Ahahaha haha ha...ha? Forgive me, I've gotten into the Easter candy early.
3)
Oh okay, so, totally random question that I could definitely google, except I'm here now, so I may as well ask...why is fish/seafood not considered meat? My family, though not generally religious in the slightest, always do the abstaining from meat thing on Good Friday, so we always have seafood and I DON'T UNDERSTAND. YOU ARE FLESH FROM AN ANIMAL, Y SO SPECIAL, SEAFOOD?
3a)
Did you guys ever hear that joke in primary school, where you'd ask someone if they liked seafood and if they said yes, you'd open your mouth to show them half-masticated food and say "see? food!" and it was ALWAYS HILARIOUS?
4)
Speaking of opening mouths, I went to the dentist on Monday. Barely got any sleep the night before, was PACKING IT the morning of, but the dentist was tiny and adorable and I wanted to keep her forever. I have to get my wisdom teeth out at the end of the month and then some fillings and I'm super scared about these things. We were discussing the procedure and she's like, yeah, it's probably best you go to the doctor and get a script for valium. YOU DON'T KNOW ME OKAY MAYBE I'LL BE SUPER BRAVE AND AWESOME THAT DAY. MAYBE I WON'T EVEN WANT PAINKILLERS. THE DENTAL ASSISTANT WILL COME UP TO ME WITH THE NUMBING NEEDLE AND I'LL BE LIKE
NO
. I'M GONNA DO THIS RAW. I'VE
GOT THIS
.
That, or I'll wet myself with fear.
One of those two things, almost definitely.
5)
Cheat's After Dinner Mint Cheesecake:
Serves one
¼ of a philly cheese packet, softened
caster sugar
cream
2
Mint Slice
biscuits (or your country's closest equivalent), crushed
dark chocolate, melted
1 - Beat cream cheese and about 1 tablespoon of caster sugar together until combined.
2 - Add about 1 tablespoon of cream and beat until combined.
3 - Add crushed biscuits and stir to incorporate. Refrigerate for 30 minutes-an hour.
4 - Swirl melted (but cool) chocolate through.
5 - Fucking gorge on that shit.
Sorry for the shady measurements, I was ~improvising. Add a drop of peppermint essence if you want a stronger mint flavour.
6)
Oh man, sugar crash.
7)
One more Bradley for the road